And suddenly summer is upon us. Unlike last year when we had the most glorious springtime and reliably warm and sunny weather throughout April and May, this year we seem to have been in perpetual gloom.
I kept telling myself that the garden needed the rain after a dry and chilly spring, but waking up to grey skies, torrential downpours and keeping the heating on whilst struggling with lockdown has been depressing.
So finally, after a delightfully warm late May Bank holiday weekend, I am sitting in front of my big sitting-room windows open to a garden that has burst into life, a bit like me! And just as suddenly I want to completely reappraise everything about my face and body which has for far too long been hidden from close scrutiny. June has all sorts of treats in store for me (at last - hurrah!). A visit with friends to a book festival with supper beforehand, a lunch at a restaurant overlooking the river with another friend, a trip to the cinema to see Antony Hopkins in 'The Father', and at the end of the month I am having a much needed break to the seaside for four days. During which I will again be meeting friends twice for lunch.
I feel a bit like a car that has been hidden under a tarpaulin in the garage for about fourteen months. The engine is sound enough but a few rusty patches have appeared and my paintwork looks dull and drab. What I need is a thorough overhaul!
Emerging into the World Once More - My Body
Can I make a dreadful confession? I rarely shave my legs in the winter. Maybe if I had a Mr. LFF in my life I might be more bothered but, permanently shrouded as they have been in black lycra, I have allowed my legs to go native. At the weekend I looked at these white, hairy, pasty, dry and somewhat scaly pins and decided that the only way is up! Obviously the first thing was to shave them and then exfoliate away as much of the accumulated dry skin as possible. I really like Soap & Glory products which are cheap, smell nice and they work just as well as their more costly cousins. I am currently using their 'Calm One, Calm All' bubble bath which promises to soften the skin, followed by liberal applications of their 'Summer Scrubbin' Cooling Body Scrub' to 'sand down' my skin and leave it nicely smooth and soft.
I have tried lots of different body lotions from different brands and at different price points, but invariably return to a huge bottle of Nivea Express Hydration Deep Moisture serum which I apply liberally over my whole body. Why? Because it absorbs quickly leaving no sticky residue. I really can't abide the skin on my arms and legs clinging to my sheets at night. Finally, once my skin is thoroughly de-scaled and deeply moisturised, I risk some lovely St Tropez Gradual Tan Classic lotion which lifts that horrible sepulchral purple tinge my skin has acquired whilst hidden under its tarpaulin.
I'll admit to being a bit fussier when it comes to my face, which also needs some tender loving care if it's to look good in the brighter and less forgiving summer light. I haven't neglected it in quite the same way that I have ignored my body, but even so, a few judicious spa treatments never go amiss. I usually start with a gentle exfoliator like Clarins 'Comfort Scrub', followed by their 'Comfort Face Mask', or if my skin feels really dehydrated I might push the boat out with their 'Super Restorative Mask Serum'. What I love about exfoliation and moisture masks are the instant effects you can achieve and the instant ways in which your skin looks and feels much better.
If I do these treatments in the evening I'll finish with LFF Deeply Dreamy Night Cream for another 12 hours of deep moisturising. If I do them first thing in the morning, then I know that my LFF Hydration Hold Serum and Face the Day Cream will keep up the good work of locking all that moisture into my skin for the rest of the day.
Sally and I are going to give you lots of help, tips and techniques for summer makeup looks in our Magic Makeup hour long zoom session on June 7th at 11.00 am (see below). We'll also record the session, however here are my main guidelines for a pretty summer look:
2. Go for a bright rather than a darker, deeper toned lipstick. In the summer, usually after I have been in France for a couple of weeks, I start applying 'Fuschia' most days. There's something about this wonderful, bright, strong pink which lights up my whole face. A similar effect for a warm toned person would be 'Poppy'. These zingy colours are beautiful for the summer months and look truly fabulous if your clothes are mostly from the paler end of the spectrum like white, cream, pale blue, pink, soft green or lemon yellow.
3. Lighten up your eye makeup. Not by using less, but by choosing lighter colours like Cream, Cappuccino, Dusky Pink, Rose Gold, Soft Olive, Soft Grey, or maybe Bluebell, Taupe, Fern, Jade or Terracotta to go with a particular colour you are wearing and complement it. I'd steer clear of Charcoal, Midnight Blue, Forest, Aubergine and Chocolate which look wonderful in winter evening light but less so in very bright sunlight.
So, inspired by this sudden burst of longed-for summer weather, I have hauled that metaphorical tarpaulin off my face and body and, thankfully, a bit of time, effort and tender loving care has worked it's magic.  I can report that the rough, scaly and dry patches of rust are gone and the skin on my body and face is buffed and polished and ready for some delightful summer makeup and my first outing in the company of some friends for over a year. Can't wait!
Upcoming Event Information: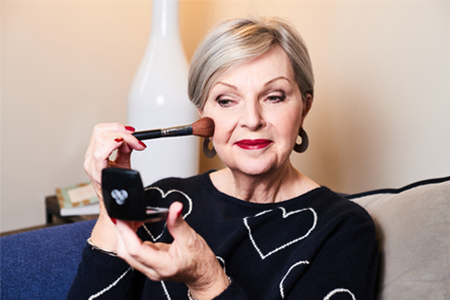 Makeup Magic Monday - All Things Summer Makeup 
Join Tricia and Sally Deung live as they talk all things summer makeup: including their top summer essential products, and how to adjust your makeup routine in the heat
Day: Monday 7th June
Time: 11am
Link: https://us02web.zoom.us/j/82476342588?pwd=cDdpV3pNOUV6TnBaVUVIWDVjUS9CUT09
Meeting ID (if needed): 824 7634 2588
Password (if needed): LOOKFAB
Teatime with Tricia - Jessica Fellowes, Author and Journalist
Jessica Fellowes is the niece of Julian Fellowes and wrote 6 books about his Downton Abbey series on BBC television. She is now the best-selling author of 'The Mitford Murders'.
Day: Tuesday 8th June
Time: 4pm
Link: https://us02web.zoom.us/j/86847401768?pwd=SHB0VERuWG1mTzdvaS9xVmNWQXhTdz09
Meeting ID (if needed): 868 4740 1768
Password (if needed): LOOKFAB
Tricia Talk - Dymphna Flynn, A Life in Books
This week Tricia will be speaking with recently retired BBC arts producer, Dymphna Flynn. Dymphna produced Radio 4 Bookclub for twenty years and ran the books brief on Front Row, the network's arts programme, as well as producing Desert Island Discs in the '90s. She is now working as a freelance book reviewer and literary festival chair, recently interviewing Polly Samson for Derby Book Festival and Craig Brown at Brighton Festival. 
Dymphna has just been announced as a judge on the Costa Book Awards 2021 
Day: Tuesday 15th June
Time: 4pm
Link: https://us02web.zoom.us/j/89352265566?pwd=RE5PQ0p6Qko5R0liU2t5cHVvYmJaUT09
Meeting ID (if needed): 893 5226 5566
Password (if needed): LOOKFAB